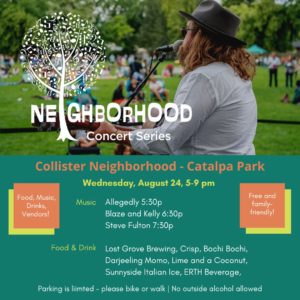 We are SO excited about next week's concert at Catalpa Park on Wednesday, August 24 from 5 pm-9 pm. It's the closeout Neighborhood Concert of the season!
Band Lineup:
5:30 pm: Allegedly
6:30 pm: Blaze and Kelly
7:30 pm: Steve Fulton
Food Vendors:
Crisp
Lime and a Coconut
Darjeeling Momo Himalayan
Bochi Bochi Japanese Eats
Sunnyside Italian Ice
Drink Vendors:
ERTH Beverage
Lost Grove Brewing (*Please note: Lost Grove will not be using plastic cups for draught beer. Please bring your own cup if you would like to enjoy draught beer. Canned beer is also available!)
Vendors:
Collister Neighborhood Association
Wild Hearts Idaho
Adrienne Nicole Designs
Curb It (City of Boise Public Works)
Boise Parks Association
Library!
See you there!